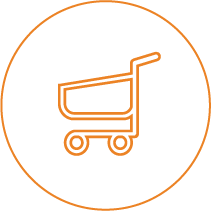 The Travall range represents a fantastic up-sell and cross-sell opportunity for accessory stores already selling complementary products, including auto, outdoor, and pet supply retailers. Travall offers a complete trade support framework, with sales-focused product training, online account management and a range of branded in-store marketing systems.
All Travall products are vehicle specific for a perfect fit, and can be ordered in-store and drop shipped direct by Travall - no stock holding, stock handling, or shipping required by the retailer.
Travall products suit a diverse customer base such as dog owners, but also anyone looking for load management and surface protection solutions. Travall accessories are also popular within the 'active with kids' market, and we think the Travall Guard product is an absolute must for anyone with rear-facing child car seats.
The following categories may be of interest :
The Travall trade program for customers in the US* has been built around you and your business. Our "best-in-class" premium products have been designed to be easy for you to list - and sell - with stock held in Travall's warehouse and drop-shipped directly to your customer's door. And for fleet customers, we make it easy for you to cover your entire fleet, no matter how big or small. We can ship direct to fleet drivers, or in bulk to one location for upfitting.
*Separate programs are available for UK and European B2B customers. Click the links here to visit the Travall B2B websites for your location.