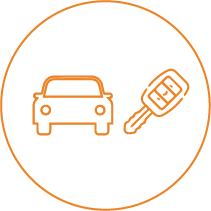 Travall accessories are incredibly popular globally among car dealers. This is because our product range provides dealers with solutions that appeal to a whole range of customer profiles - from dog lovers, to families with young children to those who use their vehicles to enjoy outdoor activities (and more). Because the products are all vehicle specific, the customer gets a tailored premium solution - and the dealer has no bulky stock to hold - everything is drop shipped by Travall.
Up-selling Travall is easy as there really is nothing comparable on the market. A range of price points are covered to fit every pocket, and because Travall products are OEM Quality, the customer would be typically paying three times as much for a manufacturer branded alternative.
Better still since many vehicles are purchased on finance, the dealer is able to make the products even more affordable by incorporating into a monthly finance cost.
The following categories may be of interest :
The Travall trade program for customers in the US* has been built around you and your business. Our "best-in-class" premium products have been designed to be easy for you to list - and sell - with stock held in Travall's warehouse and drop-shipped directly to your customer's door. And for fleet customers, we make it easy for you to cover your entire fleet, no matter how big or small. We can ship direct to fleet drivers, or in bulk to one location for upfitting.
*Separate programs are available for UK and European B2B customers. Click the links here to visit the Travall B2B websites for your location.